January 2015
NOTES & COMMENTS
MOVIES: Mr. Turner [★★]
If any convincing were needed of the greatness of work by British painter J.M.W. Turner (1775-1851), the major retrospective at the Metropolitan Museum of Art in 2008 provided it in spades. With the vivid experience of that show in mind, we expected to be deeply engaged by acclaimed director Mike Leigh's new film Mr. Turner, and posted two items on the Aristos Facebook page (December 20 and 21)--in advance of seeing the film ourselves. Having now done so, we are sorry to report that we find ourselves in the company of the four lone critics (out of 145 on the RottenTomatoes website) who put the film in the "rotten" category.
The review we most recommend is by Clayton Davis, who rightly notes that the "high points" of the film are the portrayals of three key women in the painter's life--especially the amiable landlady played by "the elegant Marion Bailey" (as we ourselves felt upon leaving the theater). In Davis's words, "her magnetism adds a sensitivity . . . and ultimately captures the viewer's attention every time she's on screen." She certainly did ours.
Davis concludes: "At over two and a half hours, you'll be looking at your watch, waiting for an end, or a mere emotional climax, that will wake you back up. . . . that moment will never come." The critical comments of Andy Lea ("Like Watching Paint Dry") and Mick LaSalle ("Dull Portrait of a Great Painter") are also worth reading.
In sharp contrast was the over-the-top review by A.O. Scott in the New York Times. Pretentious throughout, it attains its zenith of gushing absurdity in this passage:
As [Turner] traipses from London to the seaside town of seaside town of Margate and back, paces in his studio and prowls the galleries of the Royal Academy, we witness an act of creation that seems more sculptural than cinematic, as if Mr. Spall [the actor who plays Turner] and Mr. Leigh were molding Turner in molten bronze.
The movie more sculptural than cinematic? Turner molded in molten bronze? Give us a break!
(See also L.T. comment on Turner as "a primal man who foresaw abstract art.")
Note: In the above image (here enlarged), a scowling Turner is seen standing before a painting in progress. The actual work, The Harbor of Dieppe, c. 1826, 68 3/8 x 88 3/4 in. (173.7 x 225.4 cm), is owned by the Frick Collection in New York. Zoom into details of the painting, thanks to the Frick and Zoomify.
Kamhi Website and Weblog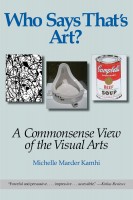 In November, Aristos co-editor Michelle Kamhi launched her own website, featuring information on Who Says That's Art? (her new book), as well as a weblog. Her latest post is a tribute to her late friend and colleague, Lucylee Chiles (1941-2013). They had met when both served on the board of the University Council for Art Education, an organization devoted to advancing "exemplary art education." The post displays images of botanical art created by Chiles in the last two years of her life, and pointedly contrasts them with recent trends in art education--which, Kamhi suggests, are anything but "exemplary." (Regarding those trends, see also her previous post, regarding a professor of art education's trashing of Who Says That's Art?.)
Alchemies and Illuminations: Selected Poems, 1976-2006
Readers of Richard H. Behm's "A Belief in Alchemy" in this issue might be interested in his Alchemies and Illuminations, a paperback collection of eighty-six poems previously published in leading journals. It can be ordered directly from him. The cost? A mere $15, including shipping. Mail check to Behm at 1333 Illinois Avenue, Stevens Point, WI 54481.
Who Founded Plains Poetry Journal? Don't Ask Wikipedia!
If one searches Wikipedia for Plains Poetry Journal--the little literary magazine that first published Richard Behm's "A Belief In Alchemy" (reprinted in this issue)--the first result one finds is a brief biography of "Jane Greer (poet)." It reads: "Jane Greer (born May 25, 1953) is an American poet. In 1981 she founded Plains Poetry Journal, a literary magazine that was an advance guard of the New Formalism movement." Trouble is, the year was 1982, and the journal's founding editor was Jane Silverman, not Jane Greer--as we know from our copy of that issue. (Further verification: EBSCO Host cites a Library Journal reference to "Plains Poetry Journal, edited by Jane Silverman.") Poems by Greer appeared in subsequent issues (Numbers Two through Six), and she served as editor from Number Seven (July 1983) on.
This example should serve as a cautionary tale to all Wikipedia readers, especially students. Never rely on it as an ultimate source.
Engaging Academia
Michelle Kamhi's April 2010 article "The Hijacking of Art Education" is one of the assigned readings in a course entitled Critical Issues in Art Education, taught by Professor David Pariser in the Winter 2015 semester at Concordia University in Montreal. Professor Pariser contributed to our November 2010 "Forum on Social Justice Art Education."
What Makes Poetry Poetry?
In a review of Myra Cohn Livingston's The Child as Poet: Myth or Reality some years ago ("The Child As Poet: An Insidious and Injurious Myth," Aristos, January 1988), I defined poetry as "a form of imaginative literature distinguished primarily by rhythmical language," basing my definition on one by a noted scholar. In an otherwise complimentary letter to the editors, cultural historian Jacques Barzun gently corrected me, suggesting that I must have meant "metre, which is regular rhythm, recurrent rhythmic patterns suited to the particular language. But even with metre all you have defined is verse, not poetry." He was right, of course.
But Barzun went on to argue that it is not possible "to name a set of requirements for poetry," to define what poetry is. In a response to both him and Livingston (who had also written, praising the review and explaining why she had chosen "to remain silent" on question of defining poetry), I argued that "there is an answer to the question, What is poetry?" as there is an answer to the question "What is art?" I ended by promising that I would deal with it in a forthcoming essay. Sixteen years later, Michelle Kamhi and I briefly discussed poetry in What Art Is: The Esthetic Theory of Ayn Rand (Chapter 13, "The Literary Arts and Film") in a section on the widely acclaimed "poet" John Ashbery [bio and link to poems].
While Kamhi and I did not define poetry in What Art Is, we did discuss the principal component of any "set of requirements for poetry"--that "something purporting to be poetry must have . . . a discernible meaning." We went on to cite the excellent little essay on its nature in A Handbook to Literature [more] (Thrall and Hibbard, rev. by Holman, 1960, 1980). In an endnote we repeated our concern that regarding what poetry is, "our focus is broader than [its] technical requirements. . . . Since poetry is an art form, any work purporting to be a poem must, at the very least, be intelligible." -- Louis Torres
Let us know what you think!
We invite readers to comment on any of the items on this page (see note on Letters to the Editors).
---